Gain the essential clinical skills and advanced knowledge you need for working with musculoskeletal pain and injury complaints. The Clinical Rehabilitative Massage training is your path to a career that in medical or orthopedic massage.
"For decades, stakeholders and professionals in our field have been looking for some type of recognized credential that can validate the training and experience of massage therapists who treat pain and injury conditions," explains Academy Director, Whitney Lowe. "This specialty certificate program has been uniquely designed to address this deficit."
Clinical Rehabilitative Massage Specialty Certificate
At the core of the training is Whitney Lowe's highly respected Orthopedic Massage Online Program.
The Certificate Program
The Certificate process is simple: take the online core program and then take two additional workshops. See below.
Online Core Program – 7 online courses with Whitney Lowe as your instructor. Each regional course covers the core clinical sciences, clinical reasoning, knowledge-based components, detailed assessment protocols, and advanced clinical treatment techniques. Total of 130 CEs
Hands-on Workshops– 2 hands-on workshops covering advanced assessment and treatment. 32 CEs; your choice of approved educational programs.
NCBTMB Specialty Exam – take 2 hands-on workshops covering assessment and treatment from an approved instructor.
Bonus! You get both the NCBTMB Specialty Certificate in Clinical Rehabilitative Massage and the Academy of Clinical Massage's Orthopedic Massage Certificate!
Take courses and workshops in any order
Apply previously taken workshops.
Apply previously taken online courses from Lowe
Entirely self-paced.
Please have a valid license in massage therapy and be a graduate of an entry-level massage training program of at least 500 hours.
The core educational program is the
Orthopedic Massage Online Program
. Lowe expanded this program to meet the curriculum needs of the Clinical Rehabilitative Massage Specialty Certificate. 
Benefits
The online component focuses on key cognitive and clinical reasoning facets of rehabilitation science: anatomy, physiology, biomechanics, pathology, kinesiology, assessment, condition problem-solving, and treatment planning.
This core curriculum includes dynamic and engaged learning using unique exercises and activities.
The program allows you to learn in a more accessible, less stressful, and more thorough way. There is no need to memorize a lot of technical information! Yet, due to the exceptionally designed learning methods and activities, you will retain far more than you would in a workshop.
A key benefit is having direct access to Whitney Lowe, one of the nation's top advanced massage educators. Whitney Lowe is your teacher and your support throughout the program.
The 7 Core Online Regional Courses:
Hip & Pelvis
Lumbar & Thoracic
Knee & Thigh
Cervical
Shoulder
ArmForearm/Wrist/Hand
Foot/Ankle/Leg
What are the Courses Like?
You will take each course online in an advanced platform that gets you actively engaged in your learning. Each dynamic, multi-media course has a variety of engaging and interesting learning opportunities. The courses are not simply videos and tests, or downloaded pdfs and tests.
Whitney designed these courses himself after over 10 years of learning advanced online teaching methods, techniques, games, and programs. You will not be bored!
Each course is designed to pique your curiosity and make learning fun and interesting!
They make learning sometimes complex content kinda easy.
How to Get Your 32 Hours of Hands-On Workshops for the Clinical Rehabilitative Massage Specialty Certificate
The Clinical Rehabilitative Massage Specialty Certificate requires 2 hands-on workshops in advanced therapeutic massage: one upper-body-focused workshop and one lower body-focused.
The hands-on workshop component must include:
Lower body region course of 16 hours
Upper body region course of 16 hours
Costs and details are determined by provider of the hands-on course.
Providers
You choose the course and the provider and submit your selection for approval to Whitney Lowe.
What Workshops Qualify?
Advanced therapeutic treatment course that includes assessment and treatment.
Instructor must have verifiable and substantive experience and knowledge in pain and injury treatment and assessment.
Workshop should be preapproved by Lowe to ensure you get credit.
Who are the Approved Instructors?
Most nationally recognized providers
Regionally located providers. * See below for instructions.
NCBTMB approved only.
Instructors/providers are approved, not organizations.
Already have CE workshops? You may have met this requirement.
Many advanced pain and injury courses with assessment you have taken in the last 5-7 years may qualify.
Send Mr. Lowe the details listed below about the course to get it approved.
Where do I find a workshop?
Local and national AMTA sites.
Listings can be found in: Massage Today, Massage Magazine, and Associated Bodywork and Massage websites.
Local workshops may be listed by schools.
How do I get a workshop approved?
Get approval for the workshop either before or after taking.
Whitney Lowe will review the workshops and instructors to make sure they meet the criteria.
Send in the approved workshops' completion certificates.
What information do I send to Mr. Lowe to get a workshop approved?
Instructor/provider name.
Organization name.
Instructor bio (unless a nationally recognized CE Provider)
Link to provider website.
Workshop title and description.
Dates of workshops.
What information do I send Mr. Lowe once I have finished my preapproved workshop?
All of the above list (provider information, dates, workshop title/description).
Plus, a copy of the CE certificate given by the workshop.
The National Certification Board of Massage Therapy conducts the Specialty Certificate exam online.
Simply email Whitney and ask to take the test. (All 7 online courses must be finished and the 2 workshops).
The "test" is more of a knowledge challenge. Don't be intimidated! Your preparation was provided in all the activities you did in the online program. If you completed each of the segments in that program, you are good to go. Feel free to go back into the courses and remind yourself of some of the content.
It is open book but it is timed.
140 questions
Multiple choice
Online at NCB website
Instructions & access provided by Whitney
Certificate provided by NCB
$99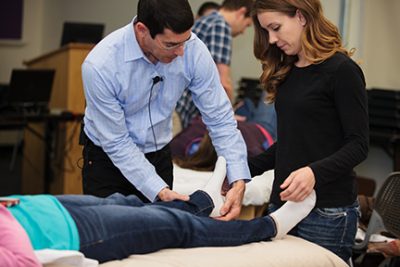 Frequently Asked Questions
To qualify for the program you must have a valid license to practice massage in your own jurisdiction and have completed an entry-level massage training program of at least 500 hours in length.
The Clinical Rehabilitative Massage Specialty Certificate does not focus on technique. Rather it emphasizes a consolidated set of specialized knowledge, skills, and abilities involving cognitive activities such as clinical reasoning, anatomy, biomechanics, treatment planning, pathophysiology, and other facets of rehabilitation science. For that reason, the largest portion of this program is devoted to those core concepts of rehabilitation science which are consistent across a wide variety of treatment paradigms and methods.
Currently, the Academy's online program is the most comprehensive program that meets this challenging core curriculum. However, in the future there may be additional programs that also meet the rigorous educational criteria that have been established for this Specialty Certificate.
There are many courses that qualify to meet the hands-on course requirements. You can send verification of your completed course to us or contact us to see if a particular course will qualify.
Please request a signed copy of a certificate from the provider of the hands-on workshops you have taken; a CE certificate form is sufficient. It is preferred that you take at least one of the workshops after you have taken some of the online courses. When you have completed the online program and both of the hands-on course requirements you are eligible to sit for the final certification exam administered by the NCBTMB. Please send all verification documents to our office at [email protected].
The online program is totally asynchronous, which means you can work in the program any time you want. You can do very small chunks of the program any time it is convenient. Why not login and do some study during that client appointment cancellation!
There is a great deal of confusion in our field about the term "certification" in relation to CE programs. There is actually only one true "Certification" program in our field and that is the NCBTMB Board Certification credential. All the other programs are actually what is called an assessment-based certificate (ABC) program. Learn more about the difference by reading this post.
The hands-on courses are a minimum of 16 hours each for an upper body course and a lower body course. The amount of time it takes to complete the online course is really dependent on how much time you devote to it. The program averages about 130 CE hours, but the amount of actual time spent in the course can vary with your experience.
You can sign up to take the exam when you have completed and submitted the following documentation:
Completion of the online program- we track course completions so you don't need to send these verifications to us
Completion of the hands-on workshop requirement (send documentation to us).
Verification of your state or provincial license (send documentation to us)
If you state or province does not require massage licensure or the training requirements for licensure are less than 500 hours, please send documentation of completion of a training program at least 500 hours in length
Send all documentation to: [email protected].
The cost of the hands-on workshops is determined by each presenter so consult their website page to find out how much each hands-on course will cost.
The full 130 hour online program is $750 (but you will find Academy specials and discounts at certain times of years and with certain promotions).
The final certification exam administered by the NCBTMB is $95.
You do not need a payment plan with the online courses part of the program. Online courses may be purchased individually, or as smaller bundles, spreading your investment out across several months. Click here to see the course pricing and package discounts available for the online course component.
This is a common question from people who have either never taken an online class with us or have had a bad experience with online learning previously. It is crucial to remember that treating pain and injury conditions is not simply about treatment technique. Success with pain and injury treatment is far more about integrating knowledge and skills across multiple disciplines (kinesiology, biomechanics, pathology, treatment planning, etc.). It is also about being able to think and problem solve.
This extensive knowledge is combined with your advanced palpation and client handling skills that you learn in the hands-on classes. I attempted to teach these complex aspects of rehabilitation science in the workshop format for years and found that there was simply too much information for people to process and integrate in a 2-day workshop. Students were mentally burned out and simply could not recall all the detail of what they learned in the workshop. I was convinced there had to be a better way to present this comprehensive material in a way that would stick and help people be more successful clinicians. Breaking the coursework of the online component into much smaller segments lets you learn when it is most convenient for you and it also allows us to use advanced interactive learning strategies that we can't use in the classroom. Click the links below to learn more about why we've been devoted to raising the bar with online education in the massage field.

Answer: Any of the Orthopedic Massage 18-40 CE online courses may be applied. Any of Lowe's Upper or Lower body Orthopedic Massage workshops may also apply.
Whitney's Blog Posts of Interest