The Academy & NCBTMB Announce
New Specialty Certificate in Clinical Rehabilitative Massage
Click IMAGE to Learn More
Burr Ridge, Ill. / Sisters, Org. —The National Certification Board for Therapeutic Massage & Bodywork (NCBTMB) has just announced a partnership with the Academy of Clinical Massage ("Academy") to introduce the profession's first Clinical Rehabilitative Massage Certificate Program.
"For decades, stakeholders and professionals in our field have been looking for some type of recognized credential that can validate the training and experience of massage therapists who treat pain and injury conditions," explains Academy Director, Whitney Lowe. "This specialty certificate program has been uniquely designed to address this deficit."
The program prepares professionals to work in settings that require advanced clinical skills. It offers stakeholders, such as insurance companies, employers, and clients a way to validate a practitioner's specialized training.
Lowe's Orthopedic Massage or Clinical Rehabilitative Massage?
The new Specialty Certificate in Clinical Rehabilitative Massage uses as its core curriculum Lowe's Orthopedic Massage program. On top of this cognitive and clinical reasoning study, students are required to take two hands-on courses from their choice of a variety of approved, partner continuing education providers. After these requirements are accomplished, a test is taken through NCB.
If you have finished Lowe's full Specialist program, then you are ready to take the NCB test. Also, if you have completed any of the partner educators' courses, you may apply these as well.
What Previous Courses Apply from Lowe's Training?
Answer: Any of the Orthopedic Massage 18-40 CE online courses may be applied. Any of Lowe's Upper or Lower body Orthopedic Massage workshops.
What if I have finished the full online program or the Specialist (or Ultimate)?
Answer: Then you have completed the program, and may contact us to gain access to the NCB test. Email us.
Focus of Training
Lowe's Orthopedic Massage program is an innovative, comprehensive massage continuing education program in advanced,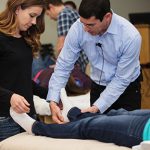 science-based clinical and orthopedic massage, taught by the highly-regarded massage educator, Whitney Lowe. The program provides you with the credentials your clients, employer, and insurance companies appreciate, while giving you the training you need for treating conditions clients are seeking effective solutions for today.
Lowe's skilled, but accessible, teaching and advanced educational methods, along with his extensive expertise and history in treating pain and injuries with soft-tissue and massage techniques, are all brought together in this unique educational opportunity. His goal is to help you achieve success as a massage professional, and provide greater results for your clients.
The Orthopedic Massage Program and the Specialty Certificate in Clinical Rehabilitative Massage provide you with the necessary skills for understanding musculoskeletal conditions. Orthopedic assessment and problem-solving strategies are emphasized, along with anatomical knowledge, biomechanics, and other clinical sciences.
The program seeks to have practitioners thoroughly understand why treatments function and how they are effective, and how to make wise, strategic choices. You learn the why, what, and how so that your treatments can be based on sound problem-solving. It is this knowledge and these skills that will make you a more effective clinician, and lead to a more satisfying practice and loyalty from your clients.
The Core
Whitney's dynamic online courses of the Orthopedic Massage Program are the cognitive and clinical reasoning core of this training. These courses feature progressive, quality instructional design and technology that will significantly improve your learning outcomes. The robust and capable course platform allows Lowe to employ educational methods and activities that ensure you not only retain the education, but have learned critical aspects of clinical thinking and problem-solving.
The core is done online because that is the most efficient and effective way for you to absorb and retain your learning. The content is focused on the cognitive, knowledge-based, and in-depth study that Lowe believes is the foundation for high-quality, advanced massage treatment of complex conditions. Techniques are not enough.
Hands-On
The Specialty Certificate allows you to put your learning to practice in hands-on seminars, and then get a nationally recognized certificate showing your efforts. The Specialty Certificate integrates seminars from other highly regarded continuing education providers, in addition to Lowe's. Go to the Clinical Rehabilitative Massage page above to learn more.
Lowe will continue to provide workshops around the country, however, you will now be able to provide the learning you gained or seek to gain from other providers (select list, please see Schedule). If you do wish to learn from Lowe, know that his seminars are highly recommended in orthopedic and advanced clinical massage circles and he teaches all of his seminars, except in rare occasions. He provides a lot of attention, clear explanations, humor, and offers a dynamic presentation. Each seminar is supported by innovative and educational multi-media, with 80% hands-on and guaranteed limited-size classrooms.
Lowe's Professional Orthopedic Massage Program & NCB Clinical Rehabilitative Massage Specialty Certificate
Core Online Requirements for both Lowe's Orthopedic Massage & the Specialty Certificate in Rehabilitative Massage:
Cervical Region
Shoulder Region
Lumbar & Thoracic
Hip & Pelvis
Knee & Thigh
Foot, Ankle, & Leg
Elbow, Forearm, & Hand
All online courses: 18 CEs
Specialty Certificate in Rehabilitative Massage 
Requires above Orthopedic Massage Online Program, plus
Requires two (2) hands-on workshops, see this link: CRM Certificate 
Find qualifying Workshops here: Schedule
Core Orthopedic Massage Program Purchase Options:
Professional Package:

Includes all 7 online courses (listed above)
Total CEs: 130 (includes 4 bonus massage CEs)
$750 (purchased individually $998)
Information & Register

2 Course Bundle

Affordable way to try the program, get a free book, spread payments out

Single Courses

Take one class at a time, requires purchase of book

Note: Previously taken workshops or online courses may be applied toward the Specialty Certificate, contact us for more information.