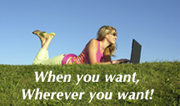 Whitney Lowe's core training is the Orthopedic Massage program. This remarkable and innovative training has created exemplary therapists across the United States and abroad for over a decade.
Lowe started his advanced training program over 30 years ago in the workshop format. However, both he and his students felt that they wanted a more comprehensive training – one that gave practitioners understanding of the anatomy, biomechanics, and critical thinking that goes into providing pain and injury treatment with massage. Practitioners also wanted more time with Lowe, to learn from him, to ask questions, and get deeper into the content than can be done in a workshop.
Lowe spent over 10 years perfecting the online program before initiating it. He spent significant time studying and training in online education and technology in order to offer his students the very best education possible. After consulting and surveying his students, he came up with the core content and the Online Orthopedic Massage Program was founded.
The Clinical Rehabilitative Massage (CRM) Certificate includes the full Orthopedic Certificate Program and also requires 32 additional hours of hands-on training.
Lowe's Orthopedic Massage
Lowe's Orthopedic Massage program is an innovative, comprehensive massage continuing education program. It is taught by Whitney Lowe, and offers advanced, science-based clinical and orthopedic massage. The program provides you with the credentials your clients, employer, and insurance companies appreciate, while giving you the training you need for treating conditions clients are seeking effective solutions for today.
Lowe's skilled, but accessible, teaching and advanced educational methods, along with his extensive expertise and history in treating pain and injuries with soft-tissue and massage techniques, are all brought together in this unique educational opportunity.
Gain insight into musculoskeletal conditions, from acute to chronic
Explore why and how treatments function to heal pain and injuries
Learn to match the physiology of the tissue with the physiological effects of the treatment
Learn injury specific & generalized treatment solutions for a wide diversity of conditions
Learn orthopedic assessment and problem-solving strategies so your treatments are more effective and targeted
Review anatomy & kinesiology principles so your treatments and assessments are based on sound science
Develop the  clinical reasoning skills that are necessary and at the core of advanced therapy
Content is focused on the cognitive, knowledge-based, and in-depth study that Lowe believes is the foundation for high-quality, advanced massage treatment of complex conditions.
Goal: Become a more effective clinician, have a more satisfying and successful practice, and gain loyalty from your clients
Courses feature progressive, quality, yet simple, instructional design and technology that will significantly improve your learning outcomes. Robust course platform allows Lowe to employ educational methods and activities that ensure you fully integrate the education. Courses are online, applied learning designs that are easy to navigate, efficient, and an effective way for you to absorb
and retain 
your learning.
Cervical Region
Shoulder Region
Lumbar & Thoracic
Hip & Pelvis
Knee & Thigh
Foot, Ankle, & Leg
Elbow, Forearm, & Hand
CE Verification & Certificate in Orthopedic Massage
18 CEs per course: Emailed upon completion or download CE letter at end of course.
Certificate in Orthopedic Massage – may be requested upon completion of  all 7 online courses.
NCBTMB Clinical Rehabilitative Massage Specialty Certificate – may be applied for through NCBTMB once all 7 online courses and 2 hands-on workshops are completed.
Important Details:
When: online, self-paced, access anytime
Tech Specs: high speed internet; downloads & document creation required
CEs: Variable 18 – 130 continuing education credits
Deadlines: You have one year to complete the full Certificate Program
CE Provider Approvals: NCBTMB, AMTA, All states
Instructor: Whitney Lowe
Courses & Professional Program include:
Supplemental course content (online and downloaded)
Extensive video library
Interactive course activities, including assignments
Instructor guidance & communication
Ongoing access video & course content after completion
Cancellation Policy
Full refunds may be provided if course(s) have not been accessed. In cases in which course interaction is minimal, course cost may be applied to another product or workshop. Engagement in the course that indicates use, will result in no refund. Email for more information.
Copyright Policy
Content, design, layout, technical design, instructional design methods, and all text, descriptions, questions, course activities, case studies, assignments, graphics, pictures, forms, including paraphrased or altered versions of any text or content regardless of amount, is protected by United States copyright laws, particularly copyright law pertaining to online course, instruction, and development, as well as other copyright laws as applicable. Copyright laws for online instructional works do not have the 'free' or 'personal' use exceptions as book publishing. Please make sure that you are familiar with United States copyright laws. Academy of Clinical Massage retains the right to pursue legal remedies for illegal uses of any part, regardless of amount, of its works.
All elements of this work, including but not limited to, images, altered or not, adapted or not, text, paraphrased or not, any content, including design elements, style, and other elements, in these works are explicitly prohibited from use in public or private schools, libraries, continuing education of any kind, or any kind of public display, educational or not, as expressed in US copyright law pertaining to online educational works.
Affiliate Program Option for Schools: Educators or schools may become Affiliate Providers, please contact Academy staff to inquire about  integrating the program into your curriculum.